Which filtration solution is right for you?
The type of filtration solution you require will be determined by your water source, the quality of the water, the desired application and, of course, your personal preference. You could also integrate different solutions depending on your home's unique water requirements.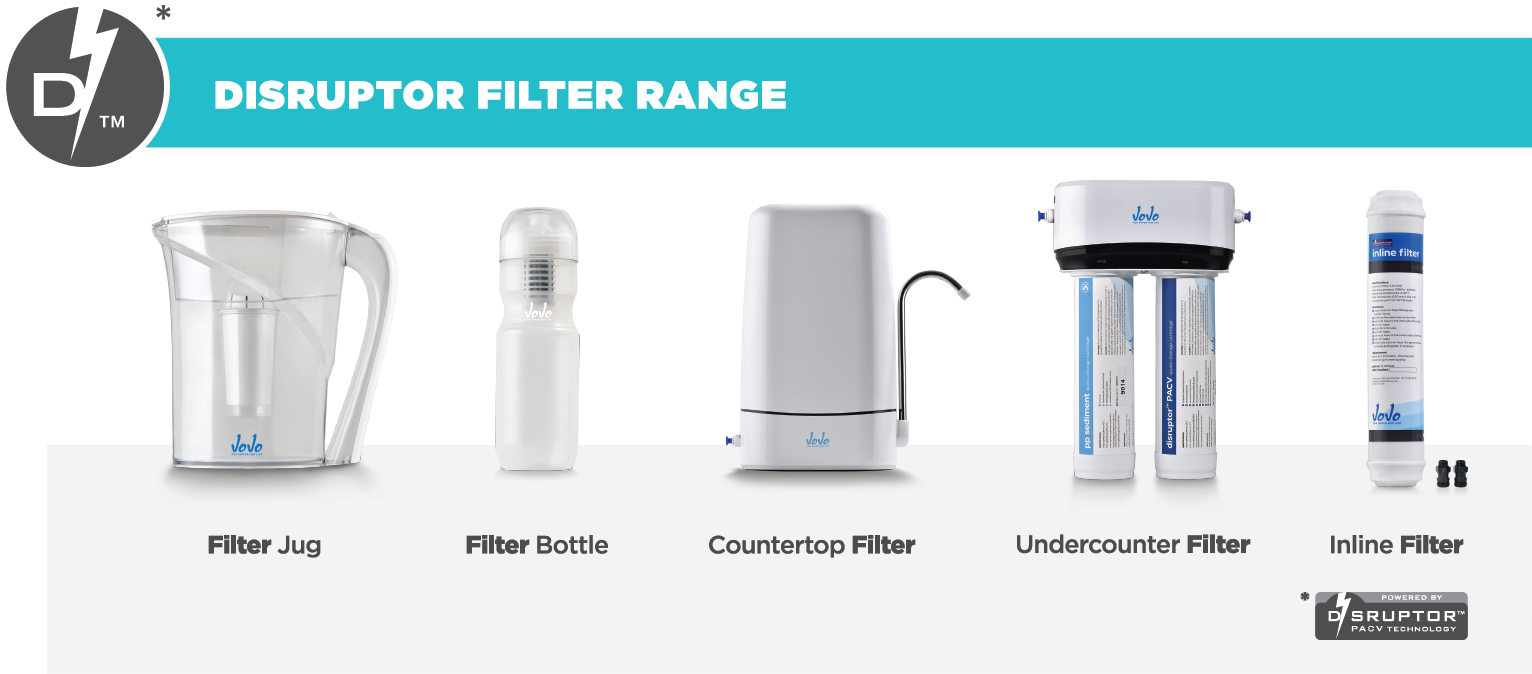 Electroadsorption traps contaminants: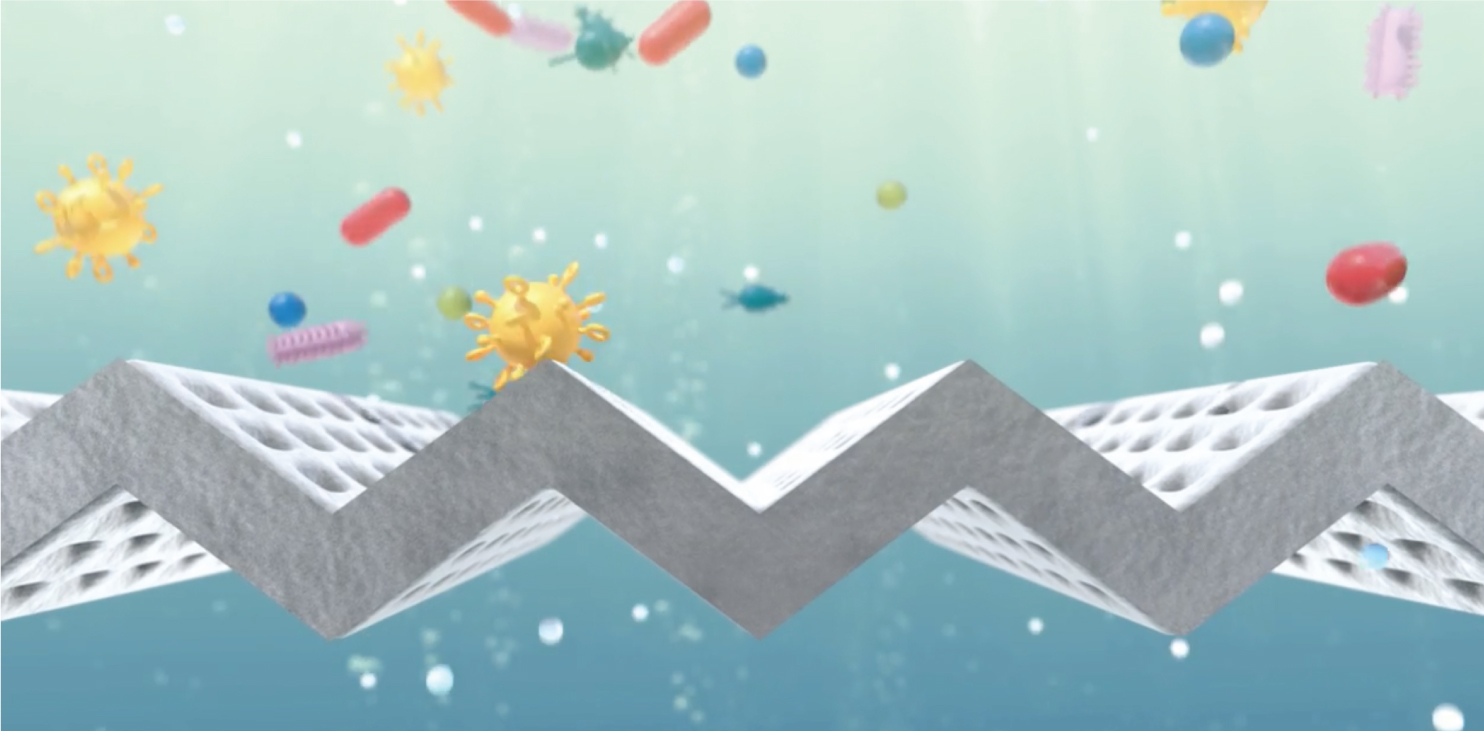 We offer various point-of-use solutions ranging from bottles and jugs, to countertop and undersink filters for your kitchen, and even a backup inline filtration solution when access to clean water is limited. Our range ensures a solution for a variety of applications.


Point-of-use filtration
Point-of-use systems filter water at the point of use and is usually installed at a single water connection, typically under sinks or on top of counters in kitchens. Certain filters, such as filter jugs or bottles, don't require any installation at all. Point-of-use filters are ideal for producing purified drinking water.


Point-of-entry filtration
Point-of-entry filtration solutions are also referred to as 'whole-house water filters'. These units are installed at the main water line where the water first enters your home. They treat all the water you use in the house, after which the treated water flows from every tap and to every appliance. Point-of-entry filters are required if the quality of your water is not up to standard and needs to be purified before household use.
Why JoJo's water filter is your best choice
Most water filters serve merely as verified sieves, reducing the amount of sediment and chlorine to make the water look and taste better, but leave behind the microscopic harmful residue of bacteria, viruses, parasites and trace chemicals, amongst others. The Disruptor® technology patented by Ahlstrom provides the cleanest water possible. Ahlstrom Disruptor® is a high-performance non-woven filter media with the ability to reduce membrane biofuelants and bacteria.

Disruptor® 5293 PAC-S is designed specifically for improving the quality of water through particulate filtration properties produced by both electro adsorption and mechanical filtration. Improved taste and odour qualities are provided through the addition of powdered activated carbon (PAC) and antibacterial silver.

By combining all three water treatment methods into one product, Disruptor® 5293 PAC-S is the first non-woven media capable of competing with polymeric membranes and carbon block in terms of filtration efficiency and water quality, but at significantly higher flow rates, and with lower energy consumption.
Buy a JoJo Tank
Join the JoJo family today.
Find your nearest JoJo Tank distributor by either searching your area or using the handy mapping functionality.
Install a JoJo Tank
Whether you're looking for an installer or prefer the DIY-route, we've got all the information you need.
The installers listed below have been carefully screened to ensure that they have the right equipment and level of experience to provide you with satisfactory service.
If you'd prefer to install your own tank, please consult our comprehensive, easy-to-use DIY-Installation Guide.
Why JoJo?
Tank Benefits
When you purchase a JoJo tank, you invest in a high-quality product from South Africa's leading manufacturer of polyethylene tank solutions.
Our products offer the following benefits:
All JoJo polyethylene products come with a 10-year guarantee (extended from an 8-year guarantee as of 1 September 2017).
Tanks are available in different formats, with a variety of fittings and accessories to extend performance capabilities and versatility.
Products are manufactured with the best food-grade, quality virgin LLDPE.
With a UV-stabilised outer layer, our products are designed to withstand the harsh African climate.
The food-grade, black inner lining in our water tanks prevents algae growth and keeps water fresher for longer.
A stringent quality-control system ensures that products meet specified design standards.
All JoJo Water and Chemical Tanks are manufactured in accordance with the specifications outlined in SANS 1731:2017*
All Vertical, Horizontal and Septic Tanks carry a quality certification from the Agrément Board of South Africa.
Find more information on our compliance to Industry Tank Standards here.
Testimonials
Wow, JoJo Tanks you rock! I just spoke to the most friendly, polite, knowledgeable and most helpful customer service lady at your call centre called Lesedi, and she provided all the information I needed about your JoJo Tanks and where to find them. Thank you guys!
---
On behalf of Rainbow Warriors SA, The Bonecrusher Crew and The Stray Cat Gang, we would like to thank JoJo Tanks for their life-saving donation of a 5000lt water tank to the Rainbow Warriors animal shelter in Hibberdene, Kwazulu-Natal.

For the past five years the Lower South Coast has had severe water problems. This year we were hardest hit and had to endure 16 straight days without a drop of water. As a shelter this becomes a major crisis, as water is like gold to us. Our dogs and cats drink between 80 and 100lt per day, our kennels are washed and scrubbed down each day in order to prevent various diseases that are spread from animal to animal and animal to human.

Unless you have had to face a water crisis day after day, knowing that so many lives depend on you for water, you will never understand just how much this has meant to us.

Thank you once again,
Terence (Tee) Olivier - Rainbow Warriors SA
FAQs
How can we help you?
Find the answers to your most Frequently Asked Questions.
Solutions
From filters to tanks, JoJo offers a wide range of solutions to suite various applications including domestic, agricultural, industrial and commercial.
Having trouble finding the ideal solution for you? Have a look at what we have available and don't hesitate to ask for assistance should you need any guidance.
Resources
Find installation guides, brochures & specification sheets, our 10-year warranty and other important documents here.