Rainwater Harvesting Above Ground
JoJo's Rainwater Harvesting Solution consists of a tank that accumulates water whenever it rains. It requires the installation of a pre-filtration solution, as well as suitable guttering and piping to transport the rainwater to the tank. Simple to install, its advantages include self-sufficiency and the convenience of not being dependent on regulated water resources.
Rainwater Harvesting Benefits
Free & unlimited water supply
Saves water
Reduces water bills
Access to adequate water supply when needed
Water fit for low-grade uses
Water can be consumed if properly filtered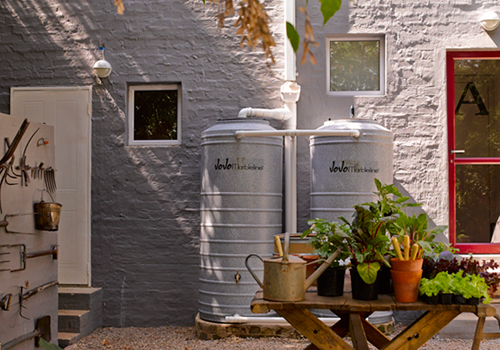 System Components
1. Tank
2. Base/Plinth
3. Pre-filtration
There are three pre-filtration options which will improve the quality of the water entering into the tank:
3a. Mesh/Tank Screen – beneath the lid
3b. Rainhead i.e. Leaf Eater
3c. First Flush Diverter
4. Pipes – 3 x 110 mm SV pipes
Lengths will vary depending on installation.
4a. From bottom of T-junction to slow release control valve (included in the First Flush Diverter).
4b. From side of T-junction to the elbow.
4c. From elbow through lid into the tank.
5. Elbow - 110mm
6. Tap - 20mm
To be purchased separately from dealer. An additional 40/20 reducer is then required to fit the tap onto the tank.
Note
This is an example of a basic Rainwater Harvesting System. Each installation will vary based on the setup and your personal preferences.
Maintenance
Although rainwater systems are relatively maintenance-free, there are certain things that you should regularly undertake in order to prolong your system's life, reduce the potential for damages and ensure you enjoy maximum benefits.
1. Rooftops
Rooftops should be cleaned regularly to avoid contamination of the runoff. Dust, leaves, animal excrement and dead insects accumulate on the roof during dry weather. It is therefore important to ensure that the roof is cleaned before the rainy season starts, followed by a monthly check to keep it clean.
2. Overhanging branches
See to it that branches overhanging the roof are regularly trimmed back.
3. Gutters
Ensure that gutters are free from leaves. It is a good idea to consider installing gutter mesh.
4. Pre-filtration
Regularly check the pre-filtration device(s) to ensure that it is free from leaves and that rainwater is able pass through.
5. First Flush Diverter
If a First Flush Diverter is installed, check and clean it out on a monthly basis. Ensure that the diverter is dripping out sufficiently in order to reset the system.
6. Keeping your tank clean
Inspect the inside of your tank every 3 months to make sure that leaf litter has not built up at the bottom of the tank. A properly designed system should not allow leaves and other material to enter the tank.
7. Water Quality
Remember that water collected from your roof will not be clean. If you intend to use the rainwater for drinking purposes, consult an installer with experience in installing water filtration systems. For irrigation purposes, however, this water is ideal.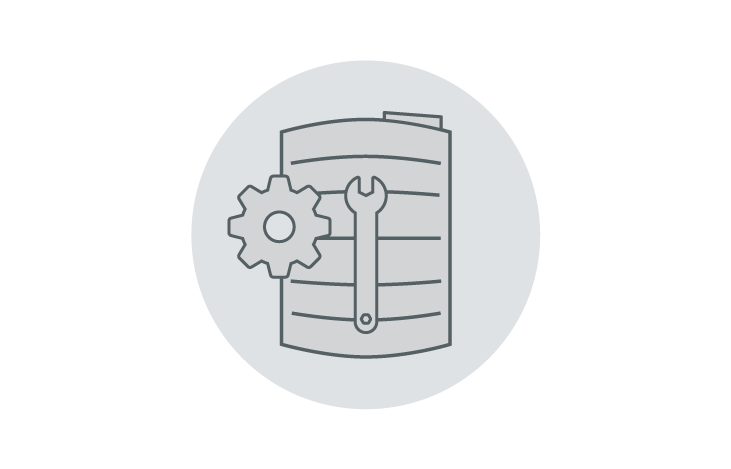 Installation Guide
1. Pre installation
A. Choose a tank
Calculate which size tank you require for rainwater harvesting.
Note: The biggest downfall of rainwater harvesting is lack of storage capacity.
| ROOF P/M2 | TANK SIZE |
| --- | --- |
| 50 - 100 | 750lt - 2200lt |
| 200 - 400 | 2500lt - 10 000lt |
B. Tank placement
Tank should preferably be placed at a downpipe, or alternatively be repositioned through the use of proper piping/guttering.
C. Base/foundation
Tanks must be installed on a sound, level and smooth surface. Level paving will suffice, or a properly designed tank stand. Alternatively, a plinth needs to be built, ideally with a concrete surface bed at least 85mm thick.
D. Recommended Base Sizes
It is recommended that the foundation should be at least 100mm wider than diameter of tank.
| TANK | DIAMETER | BASE |
| --- | --- | --- |
| 750lt Slimline | 760mm | 860mm |
| 1000lt Slimline | 840mm | 940mm |
| 1500lt | 1410mm | 1510mm |
| 2200lt | 1420mm | 1520mm |
| 2500lt | 1420mm | 1520mm |
| 5000lt | 1820mm | 1920mm |
| 10 000lt | 2200mm | 2300mm |
2. Installation
1. Base/concrete plinth
Ensure that the tank is installed on suitable base. The base must be sound, level, smooth, free of any protrusions and at least 100mm wider than the base of the tank (refer to pre-installation).
2. Select pre-filtration
Select desired pre-filtration options. Pre-filtration will differ depending on your preference and the intended use of the water.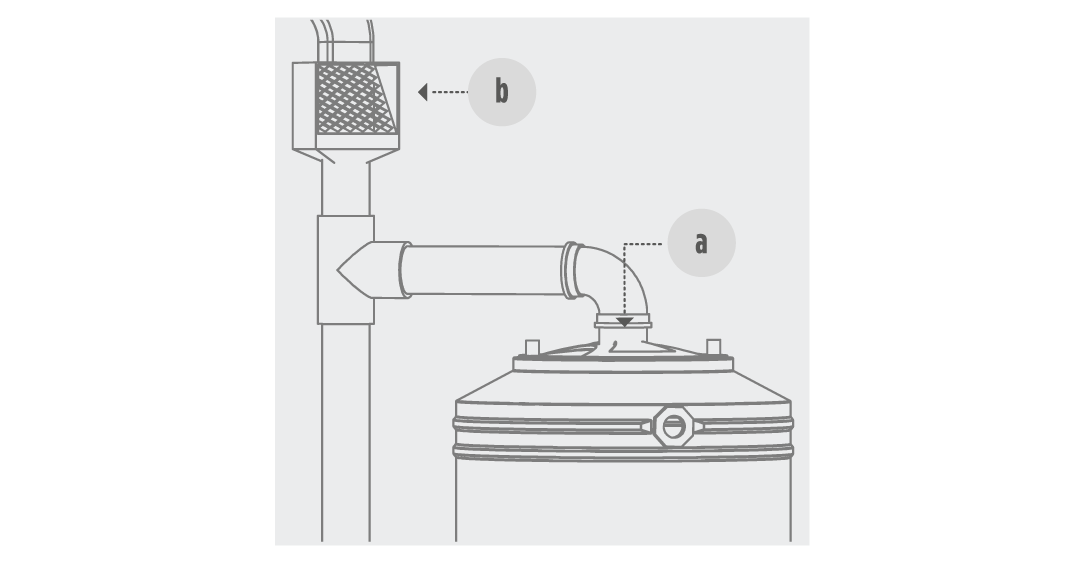 3. Tank Screen/Leaf Eater
a. Ensure that the Tank Screen is fitted beneath the lid of the tank.

b. Fit the leaf eater to the downpipe (vertically or horizontally).
4. First Flush Diverter
Install the First Flush Diverter as per instructions provided inside the packaging. Note: the first flush utilises a dependable ball & seal system, requiring no manual intervention.
5. Cut a hole into the lid of the tank
Cut a hole of 110.5mm in the middle of the lid and fit the pipe through the hole, stopping before the mesh/tank screen.
6. Recommendation
Install an additional elbow and pipe to the overflow, then route to a suitable desired area to ensure no water goes to waste.
Buy a JoJo Tank
Join the JoJo family today.
Find your nearest JoJo Tank distributor by either searching your area or using the handy mapping functionality.
Install a JoJo Tank
Whether you're looking for an installer or prefer the DIY-route, we've got all the information you need.
The installers listed below have been carefully screened to ensure that they have the right equipment and level of experience to provide you with satisfactory service.
If you'd prefer to install your own tank, please consult our comprehensive, easy-to-use DIY-Installation Guide.
Why JoJo?
Tank Benefits
When you purchase a JoJo tank, you invest in a high-quality product from South Africa's leading manufacturer of polyethylene tank solutions.
Our products offer the following benefits:
All JoJo polyethylene products come with a 10-year guarantee (extended from an 8-year guarantee as of 1 September 2017).
Tanks are available in different formats, with a variety of fittings and accessories to extend performance capabilities and versatility.
Products are manufactured with the best food-grade, quality virgin LLDPE.
With a UV-stabilised outer layer, our products are designed to withstand the harsh African climate.
The food-grade, black inner lining in our water tanks prevents algae growth and keeps water fresher for longer.
A stringent quality-control system ensures that products meet specified design standards.
All JoJo Water and Chemical Tanks are manufactured in accordance with the specifications outlined in SANS 1731:2017*
All Vertical, Horizontal and Septic Tanks carry a quality certification from the Agrément Board of South Africa.
Find more information on our compliance to Industry Tank Standards here.
Testimonials
Wow, JoJo Tanks you rock! I just spoke to the most friendly, polite, knowledgeable and most helpful customer service lady at your call centre called Lesedi, and she provided all the information I needed about your JoJo Tanks and where to find them. Thank you guys!
---
On behalf of Rainbow Warriors SA, The Bonecrusher Crew and The Stray Cat Gang, we would like to thank JoJo Tanks for their life-saving donation of a 5000lt water tank to the Rainbow Warriors animal shelter in Hibberdene, Kwazulu-Natal.

For the past five years the Lower South Coast has had severe water problems. This year we were hardest hit and had to endure 16 straight days without a drop of water. As a shelter this becomes a major crisis, as water is like gold to us. Our dogs and cats drink between 80 and 100lt per day, our kennels are washed and scrubbed down each day in order to prevent various diseases that are spread from animal to animal and animal to human.

Unless you have had to face a water crisis day after day, knowing that so many lives depend on you for water, you will never understand just how much this has meant to us.

Thank you once again,
Terence (Tee) Olivier - Rainbow Warriors SA
FAQs
How can we help you?
Find the answers to your most Frequently Asked Questions.
Solutions
From filters to tanks, JoJo offers a wide range of solutions to suite various applications including domestic, agricultural, industrial and commercial.
Having trouble finding the ideal solution for you? Have a look at what we have available and don't hesitate to ask for assistance should you need any guidance.
Resources
Find installation guides, brochures & specification sheets, our 10-year warranty and other important documents here.